Lomas Vocational Training Center
These pictures are from the Vocational Training Center (VTC) in Lomas de Carabayllo, where Pastor Gilberto Varillas and his sons started classes teaching youths how to build and repair computers. This ministry is a part of
the Principe de Paz Church that Pastor Gilberto and his wife Doris started many years ago. Pastor Gilberto and his sons are very sharp in computer technology and are passing along their skills to those in the community where they have ministered for years.
With your help, we sponsor the Loaves and Fishes Feeding Center that operates out of this church. The feeding center ministers to children there three or four times a week with a meal and the Word of God. Thank you for your help!
___________________________________________
November 2013 – Angamos Vocational Training Center
We are praising God for the Able Hands VTC in Angamos, Peru. In its second full month of operation, Director Marcos Venegas is helping people learn how to make items they can easily sell in the surrounding communities. He is helping them start their own businesses! Janet and Carlos (both students)
started businesses selling these coat racks. They bought the materials, took orders, and now makes and sells them to provide for their families. Several others are starting businesses in the next few weeks.
Beginning in January, both vocational centers will build prefab homes for families in need in their communities. Thank you for caring enough to help us in these very needy locations!
______________________________________________
October 2013 – New Center in Angamos
Marcos Zuniga has his own construction company, but Marcos also has a great passion for helping others to know the Lord Jesus and to discover their God-given talents. He loves sharing what he has learned.
Marcos came to us in July with a plan to bring vocational training to the people of Ventanilla (In the northwest region of Lima). Three months later, that dream is a reality. Last month we shared how the Lord provided a plot of land we can use for free for a full year. Since that time, the new prefabricated building has gone up, tools have been purchased, and classes have started. The local church and civic leaders are thrilled that this vocational center is now part of their community. Thank you for helping to make this dream a reality!
______________________________________________
September 2013
New Vocational Training Center in Peru
In about 30 days, the second Able Hands Vocational Training Center will open in Angamos, Peru. The director of this training center is Marcos Zuniga. Marco loves the Lord and people and shows it by volunteering his time to train others in the things he's learned! He loves training people to be better able to care for themselves and their families. He does this by teaching trades like carpentry, cabinetry, electrical, plumbing and more. As he teaches the trades, he also disciples his students to Jesus Christ. The local churches are excited about this ministry coming to their community! It will be a great outreach.
Marcos obtained the rights to this piece of property for one year for free. We'll put up a prefab structure to operate out of. The structure can then be moved to another location when we're finished here. The plan is to teach here for one year and then possibly move to another location. We're excited about this opportunity. It will be life changing for many in that community. Thank you for your love and support in this and in all of our mission endeavors!
____________________________________

THE FIRST CLASSES & THE FIRST HOUSE FROM THE VTC
at Lomas de Carabayllo in Lima, Peru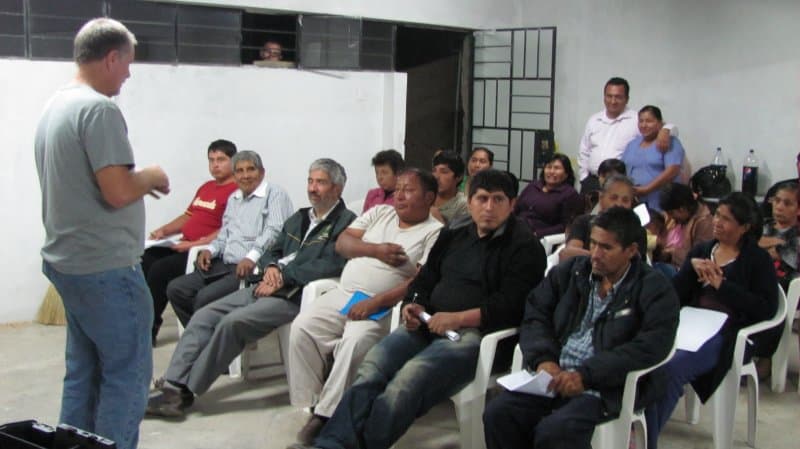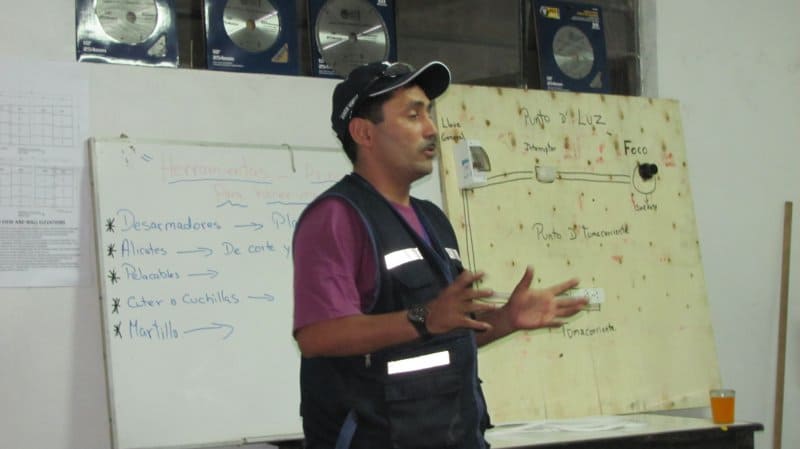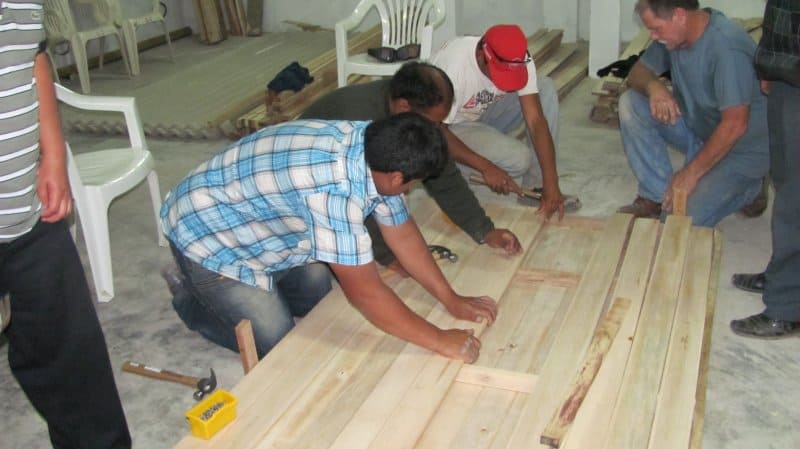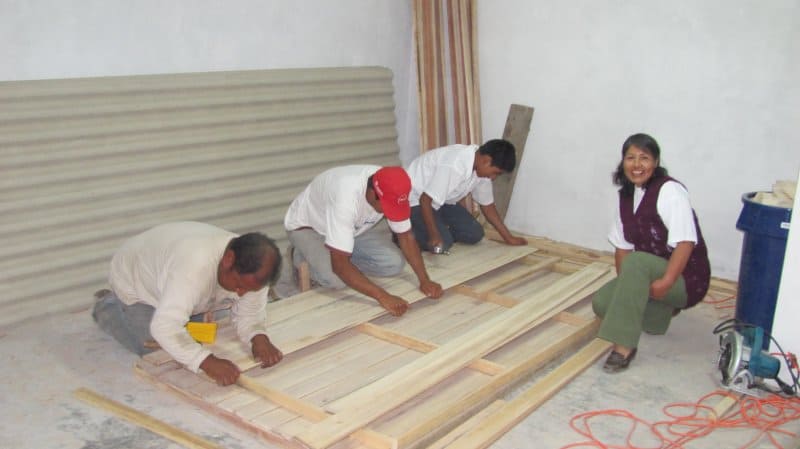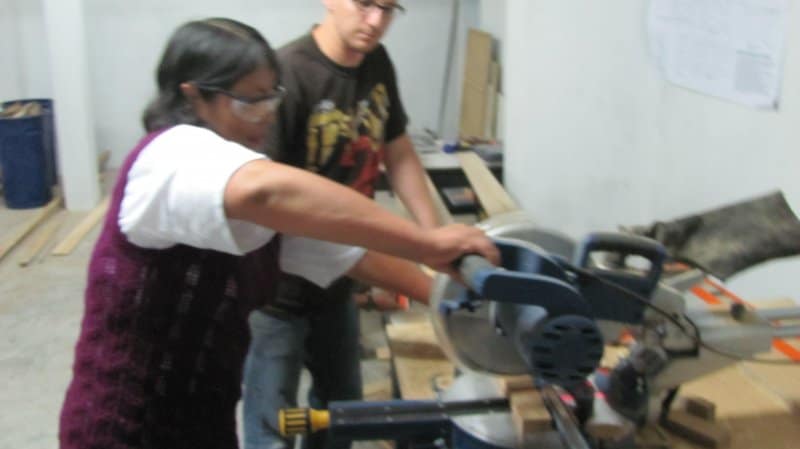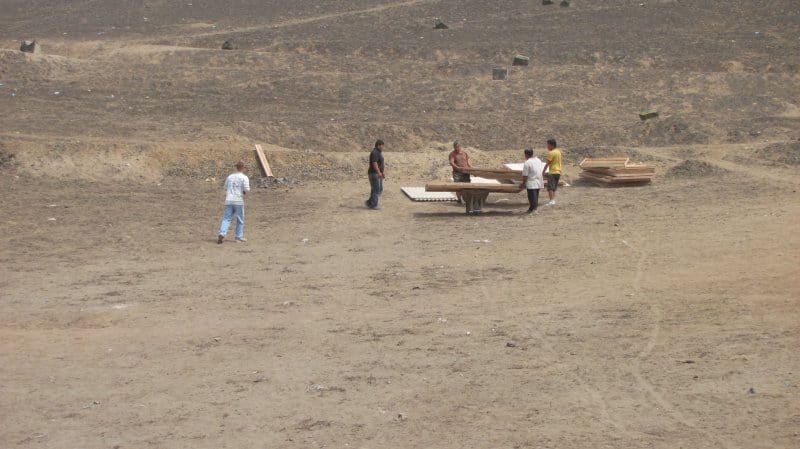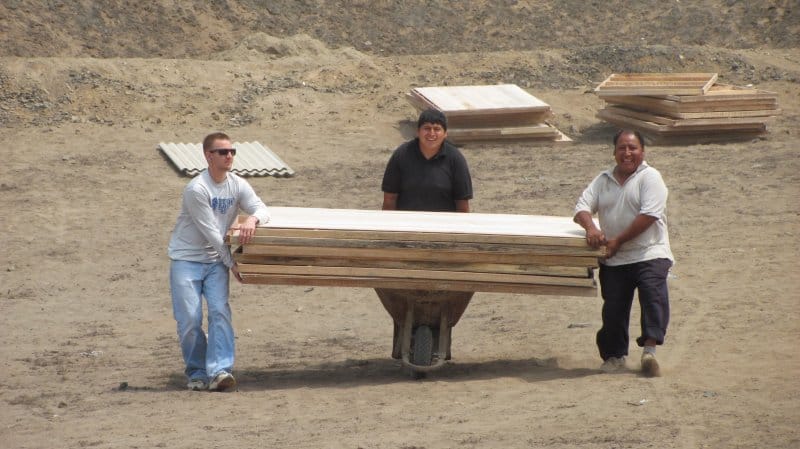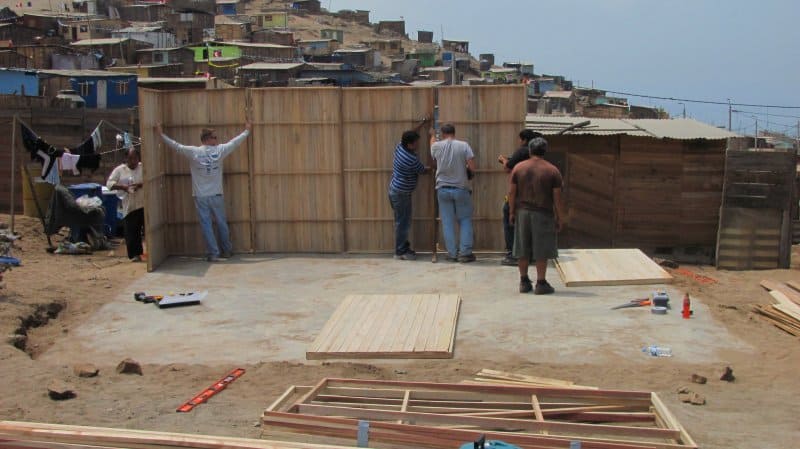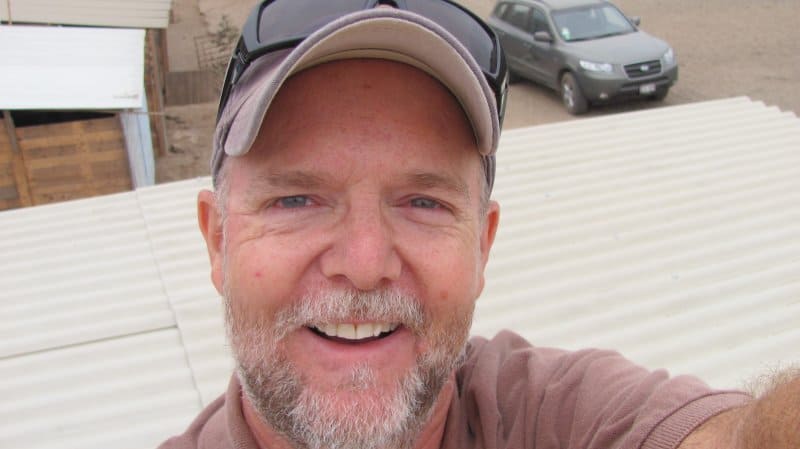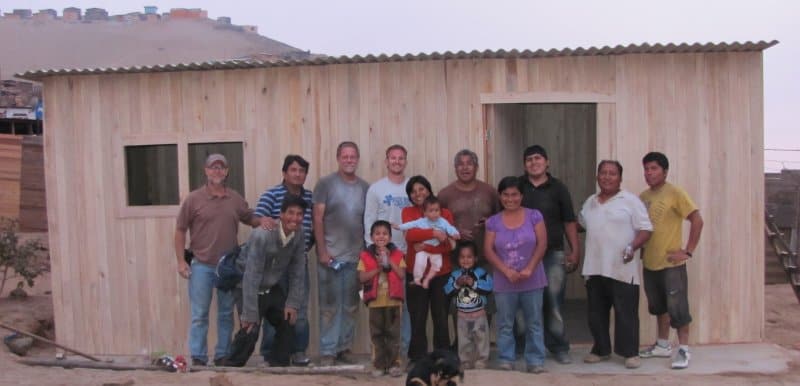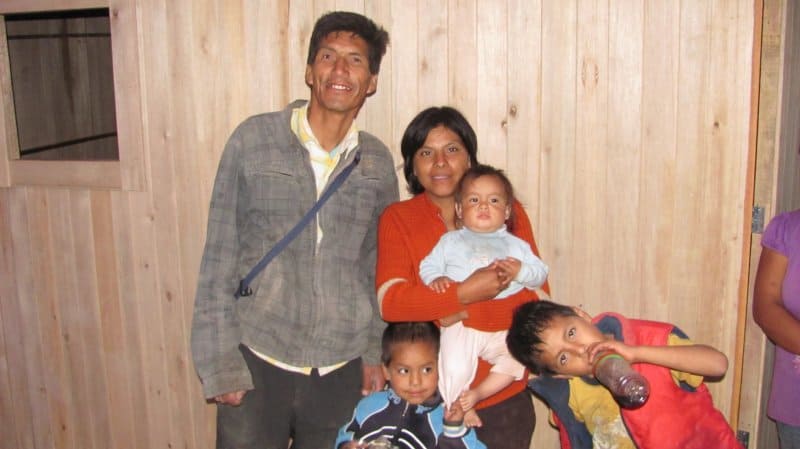 August 2012 Update: New Classes Begin
The Able Hands Vocational Training Center in Lomas de Carabayllo was established to provide vocational training for those in this very poor area of Lima. Up until now the training provided has come from seminar classes by guest instructors teaching brief courses in carpentry and electrical wiring.
We've decided it's time to have regular classes at the school and since some of those who desire training have jobs; either in the dumps or elsewhere we've decided to have classes on the weekends. Our school instructor will be Marcos Venegas Zuniga. Marcos is a dedicated believer in Jesus Christ, a gifted craftsmen and a great communicator. On September 8th, he will begin teaching classes on carpentry, electrical wiring, tiling, drywall, plumbing and other subjects as we progress into the future. Please pray for Marcos as he prepares for the classes and for us as we take on this new expense.
Since last December when Chuck Moore and Marcos taught the first classes, the students at the VTC have been building the prefab homes we've purchased and put up for needy families. They also built the prefab building kit for the church in Valle Verde. Gloria a Dios!
July 2012
The Vocational Training Center built all the prefab homes we have put up in the last year with the exception of one. What a blessing it is to be able to purchase homes from the VTC. This provides work opportunities for some very needy families.
We are so grateful to the people who have donated the funds to build the VTC but also to those who have donated the funds to purchase the prefab homes for very need families.
DECEMBER 2011
Words can't express what a wonderful experience it was being there for the opening classes of the Vocational Training Center in Lomas de Carabayllo in Lima, Peru. There were years of praying, planning, waiting and trusting until it all came together in God's time.
Thanks for helping to make this happen through your prayers and support of this ministry.
As someone once said "a picture is worth a thousand words". So as this year closes out, we're going to let the pictures tell the story.
VOCATIONAL TRAINING CENTER UPDATE #2 by Brian Weller
November 2011
In a couple of weeks, I head back to Peru for the fifth time this year. We will be opening the Able Hands Vocational Training Center in Lomas de Carabayllo. Chuck Moore and Mike Goreski will join me. Chuck is a longtime friend, a ministry board member, and a master carpenter. Our future son-in-law, Mike Goreski, has already been to Peru with me three times. Mike has a big heart for God and for the people of Peru. Chuck will teach our first training classes at the Able Hands Center. Mike will be assisting me with other tasks including outreaches into some of the churches there.
With the opening of the Able Hands Center, many in the area are more hopeful than they've been for a long time. Because of God's love and the faithful gifts of our donors, many will now have an opportunity to step into a new vocation. We're excited, along with Pastor Gilberto and Doris, who lead the church we work with in Lomas, the church that is facilitating the Able Hands Center.
December 6th through 9th, after a time of prayer and dedication, Chuck will teach the first classes at the center. He will be teaching safety and then the basics of carpentry. Pastor Simon will teach basics of electricity. We're grateful to our friends Alex, Saul, and Hector for their new design for the pre-fab homes we'll be building at the center. We'll build the first home during the training classes, then we'll take it out to construct on-site for a family of seven in Pachacutec.
We plan to order four more pre-fab homes before we leave Peru. This way, we can immediately put the training center graduates to work and move towards opening our next training module. We have two Peruvian youth mission teams going out in January, and we have a team from Northside Christian School (from St. Petersburg, Florida) coming to Peru in March. Both teams will put up pre-fab homes for needy families, as well as doing other ministry showing God's love to the people.
If you would like to sponsor a home for a needy family, the cost is $1,500. This includes not only the home itself but also the cost of the concrete foundation and the electric. Once the home is up, we send you a picture of the home and the family you sponsored so that you can remember them and pray for them. Perhaps your family, church, Bible study group or Youth Group would like to sponsor a home. It is the gift of a lifetime for a Peruvian family stuck in a cycle of poverty.
VOCATIONAL TRAINING CENTER Update #1 by Brian Weller
God is awesome! Once again, I'm overflowing with gratefulness to God for the amazing provisions He sends through His people. I'm also extremely grateful for those who helped — through your prayers and financial gifts — toward the building of the Able Hands Vocational Training Center. Thank you!
We received more than twice the amount of help we needed to meet the matching grant opportunity, so construction on the Training Center is moving forward quickly now.
While I was in Peru, Marco Aroni and I met with Pastor Simon, who is also an electrician. We also met with our friend Jose who has worked on many of our construction projects in Peru. They were both excited to start completing the work on the Vocational Training Center. You can see from the photos, much has been completed! Within just a couple of weeks, we can start buying the equipment and tools we need for the first vocational training module (carpentry).
Thank you for helping to make this Training Center a reality! Also special thanks to Marco, who is now working with us in Peru. He's organized all this hard work, and he makes sure it gets done. He's a true blessing.
Please continue to pray with us as we move forward with this project.
THE NEED LISTED BELOW, HAS BEEN MET!!
Praise God! The matching grant opportunity has been met! Anything that comes in above and beyond what is listed below will still go towards the opening of the VTC. We still need to get curriculum and materials to build our first set of prefab homes.
Thank you for your part in making this dream come true for the people of Lomas de Carabayllo. Soon some will be learning a new trade at the Able Hands Vocational Training Center.
Recently, we were approached by one of our ministry partners with an offer for a matching grant towards the completion of the Vocational Training Center we are building in Lomas de Carabayllo in Lima, Peru. We've never been offered a matching grant before, but we see it as an opportunity and a blessing from God. I want to share this opportunity with you and welcome your involvement with it, if God touches your heart.
There's a burden on my own heart to focus on getting the Able Hands Vocational Training Center up and running by the end of this year. With this goal in mind, we recently allocated funds from our general fund to install all the doors, windows, and security bars. These are now in place. Our next step is installing electricity. It will need to be a 3-phase, 240-volt system to handle the equipment we'll eventually have in the center. We intend to conduct training in vocational areas including carpentry, baking, sewing, electrical, and other basic skills. The matching grant offer is for $3,500, which, if met, would give us a total of $7,000. This should be enough to finish the construction and move us closer to opening our first training module on carpentry.
The list below outlines what we'll do with the grant funding if we are able to obtain it:
To finish the construction of the building:
Install electrical system for both floors = $1,000
Install light fixtures for both floors = $200
Finish construction of the building = $2,000
Items needed for Carpentry Training Classes:
2 Table Saws – $700 each = $1,400
3 Electric Circular Saws – $75 each = $225
3 Cordless Circular Saws – $100 = $300
4 Electric Hand Drills – $35 each = $140
4 Cordless Hand Drills – $75 each = $300
4 Electric Sanders- $50 each = $200
Hand Tools – Hammers, levels, wrenches, files, trowels, planers, screwdrivers, ext. cords, etc. $600
TV and DVD Player for instructional videos $350
Tables, chairs, workbenches $285
TOTAL $7,000
The building, equipment, and tools will not only be used to train people in a new vocation. We can also build our pre-fab homes and other items here, which our ministry would purchase directly from the Training School. Many of the men, women, and teens in this area of Peru grow up working in the nearby dump, making a living by recycling whatever they can. The Able Hands Vocational Training Center will give them a new vocation, a new opportunity in life, and the ability to bless their fellow Peruvians with these new skills.
Once the carpentry module of the Able Hands Center is open, we will begin building the pre-fab homes that we'll then purchase for the Give a Home Project. These are the homes that many of our mission teams build when they come to Peru. The cost will be $1,500 for a new pre-fab home, complete with a cement floor and electricity. This way, when we purchase a home for a needy family (or when someone else purchases it) the funds will be divided in four ways:
1) An income for the new carpenters trained at the center
2) Toward purchasing more building materials
3) Toward opening a new training modules
4) Toward the support of the Loaves & Fishes Feeding Centers
This is a great plan that will benefit many! We welcome your support in this ministry project to helping us reach our goal and receive this matching grant.
God bless you! Brian Weller